Corrective Facials – What are they and why do we need them?
Each of us have skin imperfections we struggle to conceal. Is your bathroom cupboard is filled with tried (and failed) products? It may be time to seek a different type of treatment from a professional. Sometimes, you just want a little skin "pick-me-up" and a classic facial with all the massage, and relaxation does feel amazing! But if you have a specific and targeted concern you want to address,  a corrective facial could be the solution to your long-fought skin insecurities. Learn the benefits-and best way-to get the most out of your skin care investment and ease your fears-about corrective facials and make them work for you!
Corrective facials are a step up from the "steam and cream" days of last decade. These are powerful, effective, and instantly gratifying skin treatments. They often include chemical peels, mechanical modalities such as ultrasound, or dermaplaning.
Misconceptions of Corrective Facials 
Some skeptics think facials can cause more harm than good, or are simply unnecessary. If the word "corrective" makes you nervous, let us alleviate those fears! We've included some of the more common objections to facials and why these aren't necessarily true.
Getting a facial treatment will cause break-outs: People often think they break out after a facial, but your skin is actually purging. This is the process where clogged pores and hair follicles, deep below the surface, are now getting the chance to "purge" due to the deep exfoliation of the corrective facial. This purging, is simply blocked pores that would have eventually come out over time, it's just being fast tracked, therefore revealing clear, bright skin sooner!
I can get the same results from an at-home treatment:  There are tons of products on the market that boast "spa-quality results." However, what we use in the spa, is far greater strength that what you can purchase on the shelf for home care.  By attempting to fix your skin issues at home, you may end up causing even more problems! Trust the experts.
A facial should cure all of my skin woes: While corrective facials do help skin issues, they are primarily meant to correct any future imperfections and problems. You will see a change in your skin, but the biggest (and best) changes come in the form of preventing issues. 
Once is enough: You will see wonderful results with your corrective facial treatment that can last up to a month. But without continued maintenance, your treatment will be more of a relaxing experience than a skin-changing one. Our suggestion? Do a series of three or six corrective facial treatments twice a year to target deep skin concerns and see long-term, dramatic results.
Importance of Corrective Facial Treatments
One corrective facial will give you instant results that last several weeks to a month. However, if you do a series of 3 or 6 twice a year this is targeting deep skin concerns and will give you long term dramatic results. Especially as we age, our skin cells don't turn over as quickly as they do when we are young. When we are in our 20s they turn over every 28 days. In our 30s and 40s it's more like 35 – 40 days. Once we hit 50 and beyond, the turnover slows to nearly 60 days! What does that mean?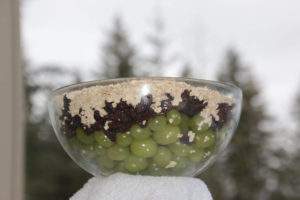 Let's give you a visual: 
Imagine a bowl full of grapes, raisins and oatmeal.
The grapes represent the young, healthy skin cells: Plump, juicy and full of nutrients. The raisins started out as healthy skin cells, but they are slowly dying. These raisin cells are brown, flat and sticky. Once the raisins finally die, they turn into the oatmeal. When they get dry, flaky and uneven to the touch, then they are ready to slough off.
As we age, those raisins and oatmeal tend to stick around a lot longer than they used to. Less grapes are produced, and the ones that are there are stuck so far below the layer of brown raisins and oatmeal they are barely seen.
Our goal is to have more grapes, less raisins, and to completely eliminate the oatmeal cells!
Why We Love Them
There are plenty of reasons to love corrective facial treatments, especially after you've experienced one!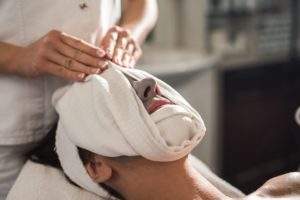 Our treatments incorporate pharmaceutical grade, botanically-based ingredients and potent antioxidants to solve pesky skin conditions. Depending on the treatment, a corrective facial can clear up acne, even out the moisture in your skin to correct dryness or oiliness, regulate pigmentation, and help minimize fine lines and wrinkles from aging.
After a treatment, you will be able to see a visible difference in your skin. Corrective facials deliver immediate and lasting results as opposed to other short-lived quick fixes. With our treatment procedures, you will see optimal results for your skin issues based on your unique skin ID. 
Our Favorite Corrective Facials
We love all of our facial treatments at Lake Life Boutique and Spa (otherwise we wouldn't offer them!). Below, we wanted to highlight two of our corrective facial treatments that are great for multiple skin types!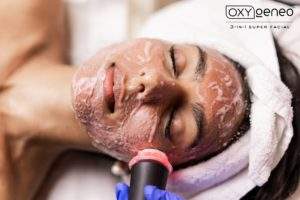 OxyGeneo™ 3-in-1 Super Facial: 

Best for: ALL skin types! 

Process/Overview: The OxyGeneo™ Super Facial exfoliates, infuses, and oxygenates your skin with one treatment. We combine a skin-specific treatment gel with a Capsugen to create a physiological response to increase oxygen and optimize nutrient absorption on the skin. After 50 minutes, you will embrace smoother and softer skin. You will also see improvements with common issues like oily, dry, sensitive, or aging skin.

Dermaplaning

Best for: Dull, aging, dry, and oily skin

Process/Overview: This 45-minute facial is the perfect option to give an instant glow while treating skin issues before an important day. Think weddings, parties, photo sessions, etc. Dermaplaning involves gently scraping off the top layer of dead skin cells and fine vellus hairs, revealing a smoother and brighter complexion. You'll find your investments in your home-care products (powerful serums, etc.) work more effectively and makeup goes on smoothly and flawlessly!

Chemical Peels

Best for: ALL skin types!

Process/Overview: Chemical peels work by applying different chemicals to the skin. This causes the skin to peel and reveal a new, smooth layer of skin. If you'd like to add a chemical peel into your skin care routine, we offer the Nourishing AFA Peel which uses hydrating amino acids. It instantly boosts skin's hydration, and can be used on even the most sensitive skin types.
Completely new to any of these corrective treatments? If so, we prefer to begin the process with a thorough consultation. When we do a client's consultation, we are respectful of both your money and time. If you can't afford the entire skincare recommendation, we will give you great suggestions for the best at-home investment. Then we will suggest coming in for one treatment to start to show you the results you can achieve! We can map out our plans, and follow up your consultation with the AFA peel. Because the AFA peel is perfect for all skin types, it's the best way to start. From here, we will discuss your goals, current skin-care regime, and finalize a thorough skin consult to map out your treatment plan!
With one of these treatments, your skin will instantly feel smooth and nourished and you'll have that ever-elusive glow. But if twice per year you invest in a series of three to six treatments (spaced 10-14 days apart), your treatments will build upon each other. The progress you're looking for will last longer as part of a scheduled series than doing one treatment sporadically.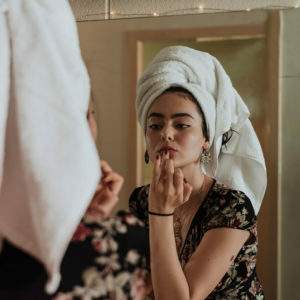 Once you leave the spa, the length of your results is dependent on your own home care. Would you sweat through a killer workout then hit up the McDonald's drive-thru? No! On the same thought, you shouldn't invest in a quality facial and follow it up with using St. Ives and Dove soap. You want your every-day products to be made up of high-quality ingredients so they can repair and protect your skin on a deeper level.
We offer a variety of corrective facial treatments and classic facials at Lake Life Boutique Spa. Be sure to check out our facials section here!
Corrective facials are a great way to see dramatic, and instant results for the skin issues that plague you. Looking into places to invest your money into skincare and treatments? Our spa will always give you a free consultation. We believe all of the best spas should! We have an incredible team of beauty experts at Lake Life Boutique Spa who would love to help you with your skin insecurities. Your skin therapist is an educated professional and will never attempt to sell you something you don't need.
We pride ourselves on providing the best customer service you deserve and will always follow up with you to see if you have any questions. To reach out and book your appointment, schedule with us online or give us a call at 250.804.4836!